---
While this pattern has been snowy for some, and not so much for others, it sure has been active. As we watch the current radar showing light to moderate snows overspread much of the Western and Central areas of the state this Evening, we are tracking a potential significant Winter Storm Friday Night into Saturday.
This upcoming Winter Storm will once again be a Wintry Mix for the region. However, the major difference this time around is, it will be much colder not only aloft, but also at the surface. This will lead to heavier accumulations of snow and ice…even for areas that have not experienced much wintry precipitation this year.
Overall, we have pretty decent model agreement for this upcoming storm. Some are slightly warmer/colder than others, but in general they are all pretty similar. A low pressure will be tracking over the plains and eventually the system will cut to our Northwest over the Great Lakes region. This would typically lead to a rain maker for PA. But, because we have such a cold air mass in place prior to the storm, the entire state will begin as a period of snow, which will then transition to a period of ice, then end as rain for a lot of us.
We will use the GFS to demonstrate. Below is the GFS valid 7 AM Saturday Morning: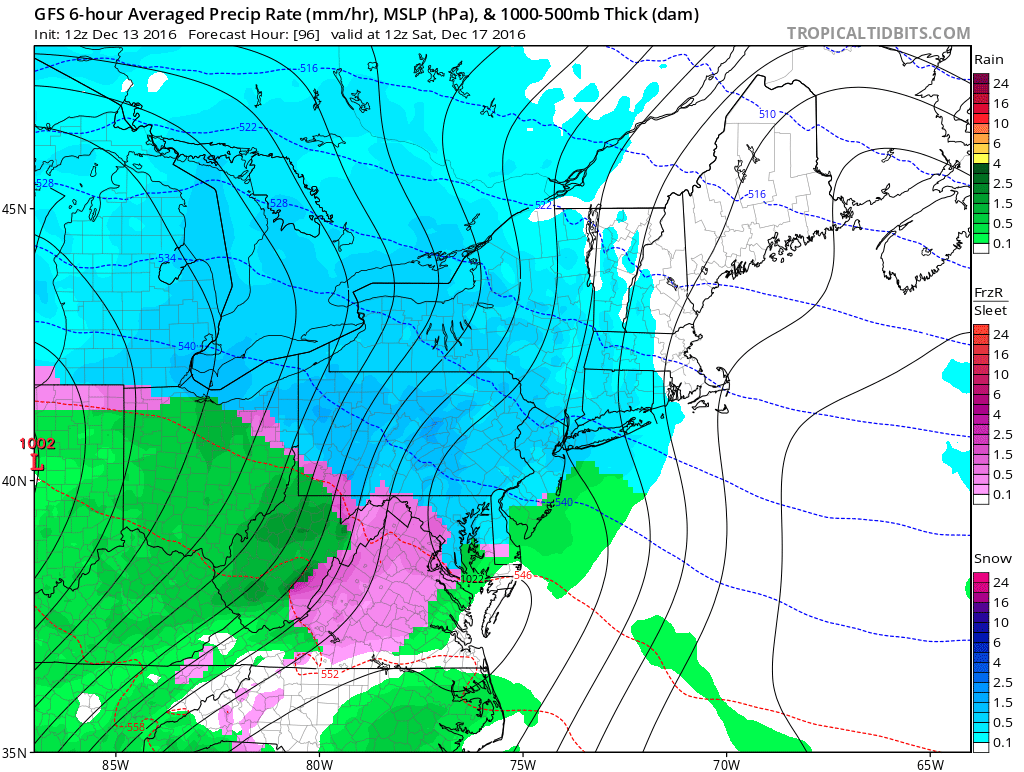 An area of snow has overspread much of state by this point. Notice though not too far off to the West is rain, however Cold Air is damming in PA and down into Virginia, this is known as CAD which leads to ice potential. That is the pink you see on this map.
Now lets take it out 6 hours to 1 PM Saturday: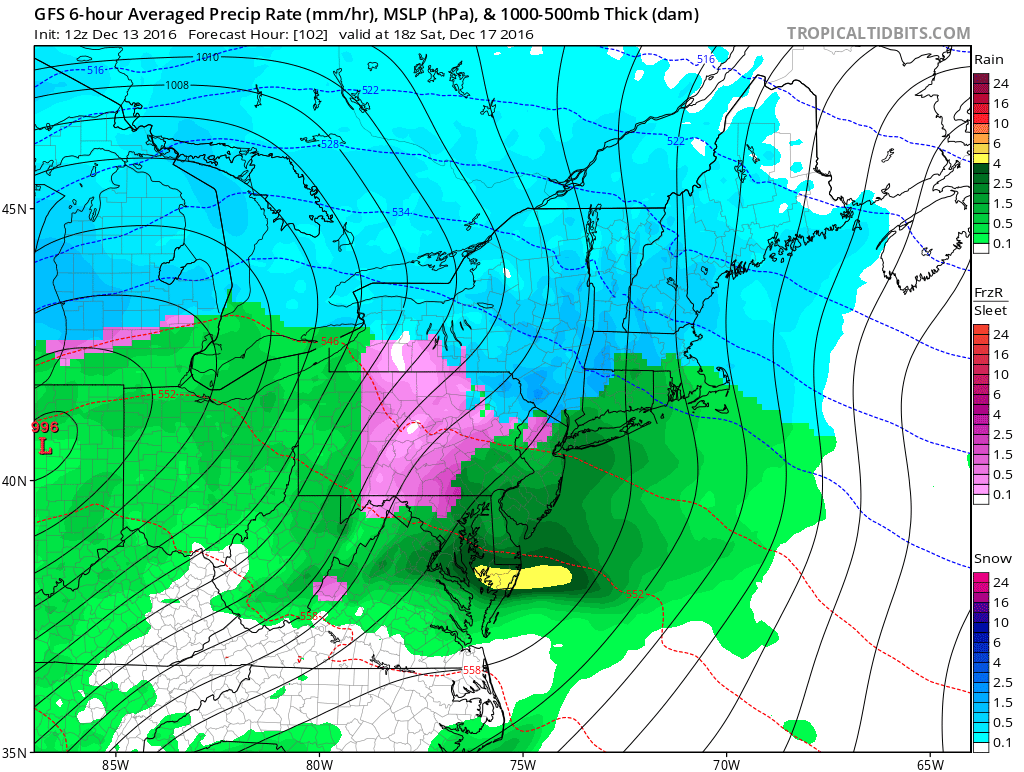 Areas in Central PA will be dealing with a serious ice storm if the GFS is correct. While areas in Southeast and Western PA have changed to plain rain and far Northeast PA is still hanging onto snow. Eventually as the precipitation is ending, most of us will changeover to plain rain.
Right now plan on a Snowy Saturday Morning, changing to ice by lunchtime and ending as rain by dinner.
Below is our first look at Friday Night into Saturday's Winter Storm:
Timing: Beginning late Friday Night in Western PA and will spread East during the overnight hours early Saturday Morning, ending by dinner time Saturday Evening.
Area A: Moderate to Significant Snow and Ice potential. While it is possible for several inches of snow to fall, we are more concerned with the ice that occurs after the snow, which will then all transition to rain by Saturday Evening before ending. Serious travel impacts are possible, especially Saturday Morning through Lunchtime. Power outages are possible. 
Area B: Moderate Snow and Ice potential. Accumulating snow followed by a period of ice before rain looks likely. Disruptive travel impacts are possible beginning Friday Night for Western PA, Saturday Morning through Saturday Lunchtime for the rest of area B. Isolated power outages are possible. 
Area C: Low Snow and Ice potential. A period of snow, followed by a quick transition to sleet/freezing rain to plain rain. Some travel impacts are possible Friday Night through Saturday Lunchtime.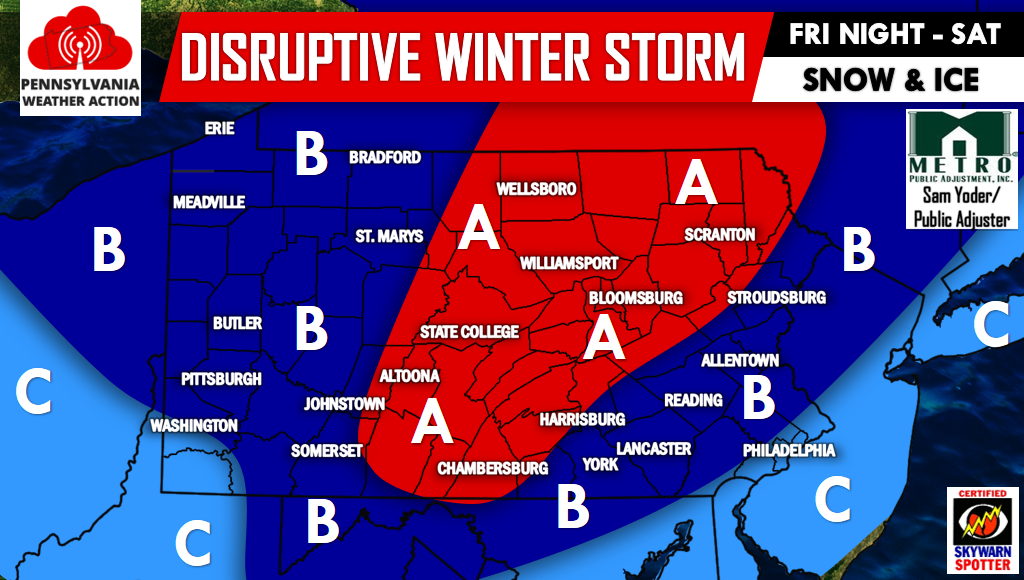 Tomorrow we will have an official first call regarding this upcoming Winter Storm with specific numbers so be sure to click here to follow us on Facebook for the latest>>>PA Weather Action on Facebook!
Don't forget to share this article with your family and friends below!