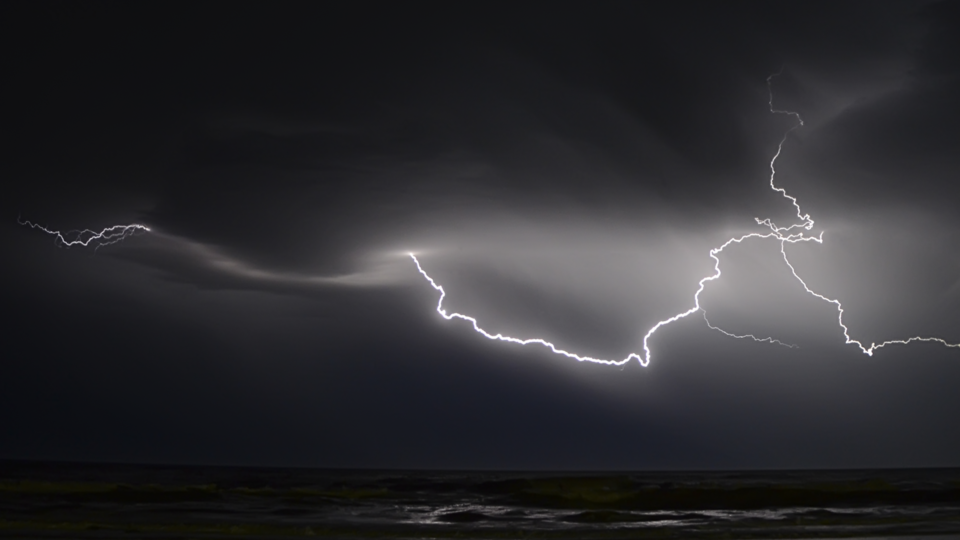 It turns out, there is no correlation between a warm winter and a cold spring. The heat can be turned off through late this week, and you'll probably even need the AC. A large storm in the Plains will send well above average temperatures our way, and even some severe weather potentially.
Tuesday (4/4) High temperatures will soar into the 60s and 70s Tuesday as the storm out west becomes even with our latitude, pumping in warmth from the south. Partly to mostly cloudy skies are likely, with an isolated shower in Northern PA, dry elsewhere. Winds out of the south at 5-10mph, a few isolated gusts up to 20mph. Overnight lows will be very mild, only dropping into the 50s in all areas except the northern mountains, where temps should drop into the upper 40s.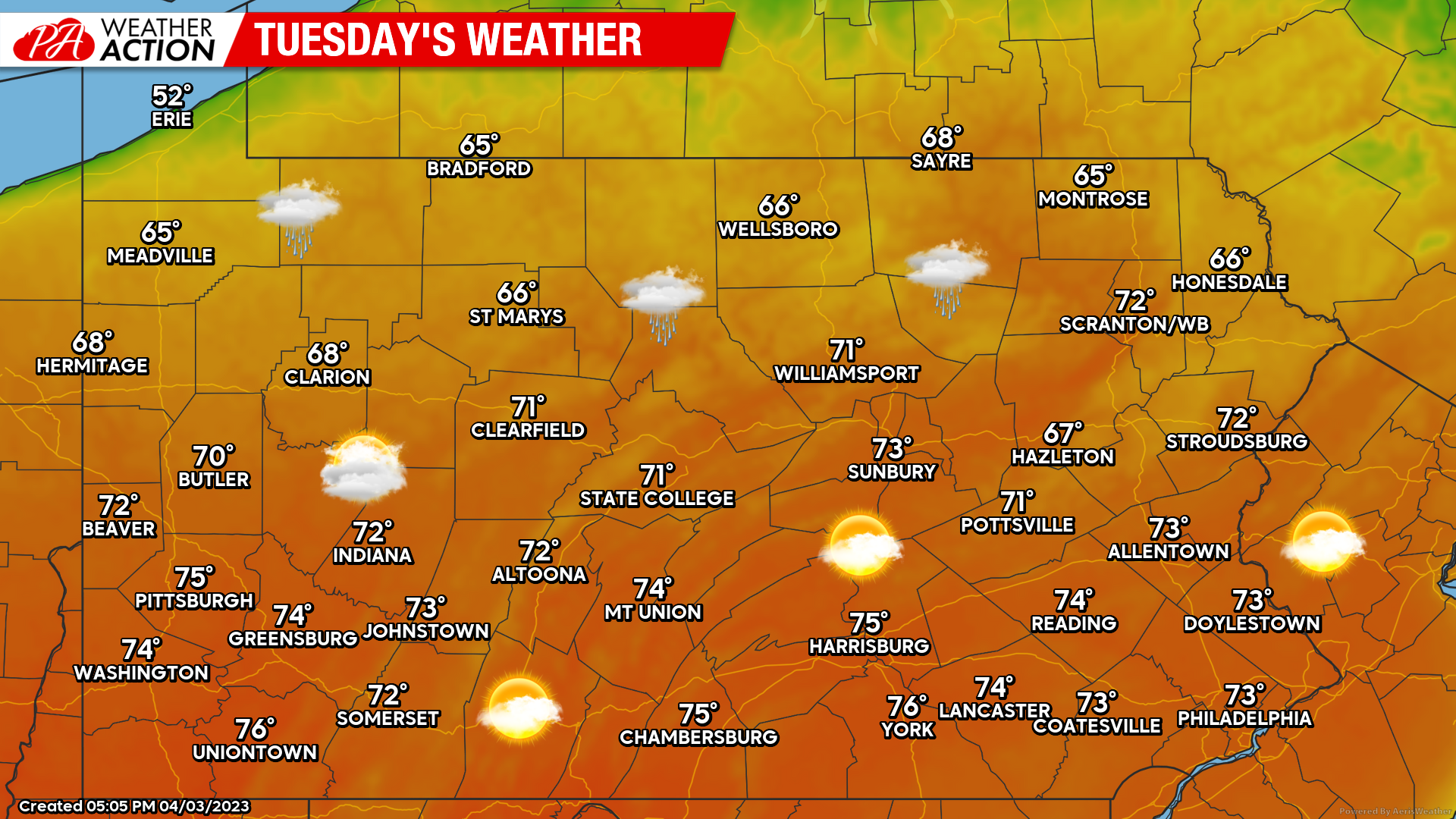 Wednesday (4/5) High temperatures will be anywhere from 5 degrees above average in NEPA to 25 degrees above average in SWPA, due to cold air damming mostly to our northeast. Highs near Pittsburgh may eclipse 85 degrees Wednesday, with 80s across Western and Southern Pennsylvania. In Northeast PA, highs will be stuck in the 50s, with 60s in the Lehigh Valley. Winds out of the south at 8-14mph, gusts of 20-25mph (stronger in t-storms). Overnight lows in the 50s in the northern half of PA, 60s south.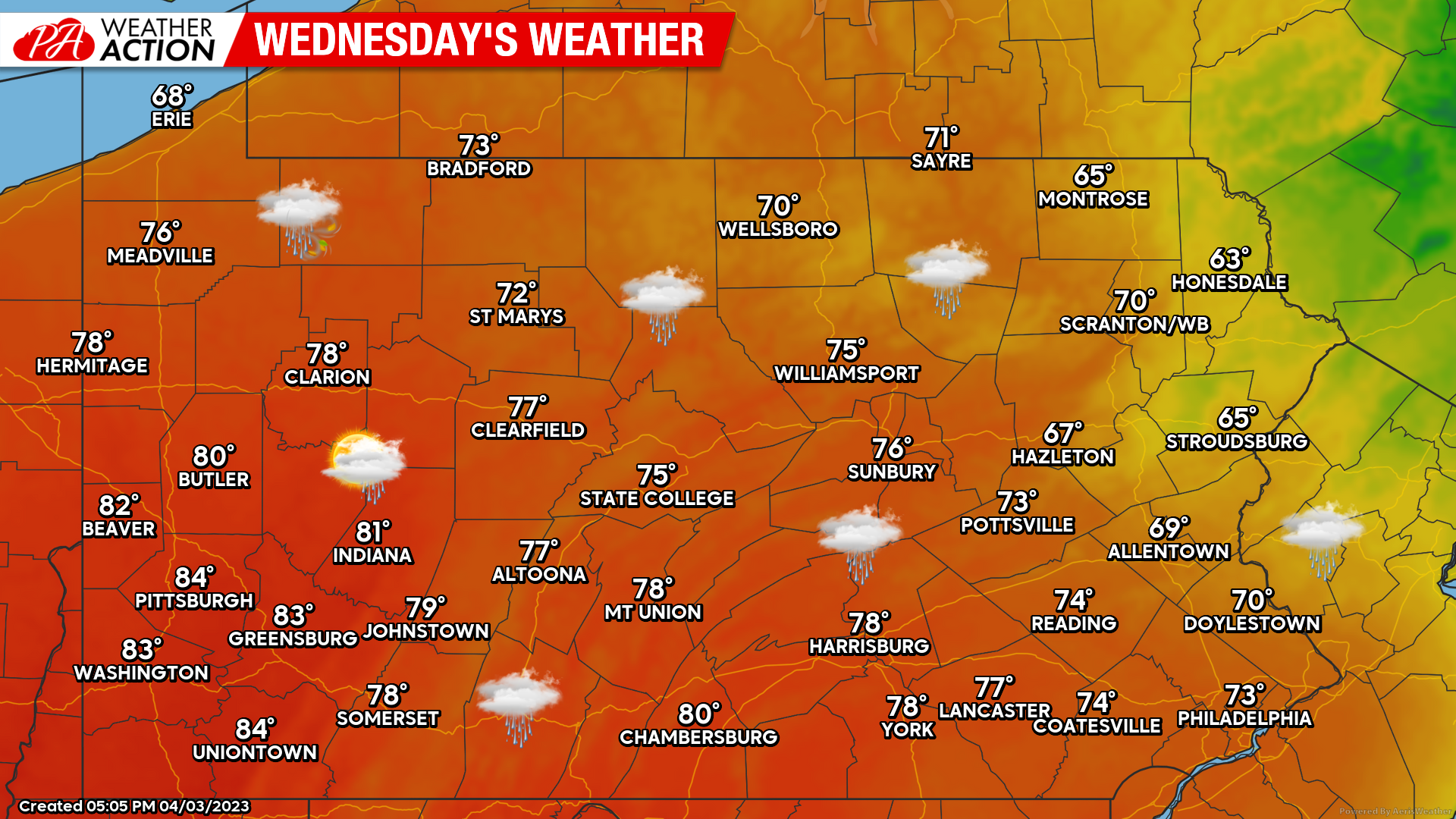 Scattered thunderstorms are also possible in Western PA Wednesday, some of which may be severe. The Storm Prediction Center has placed a Level 2/5 Risk for severe thunderstorms in Western PA, and they've outlined NWPA for the risk of significant severe weather, including tornadoes. You can find all these graphics in our app, where they update with the latest information twice daily. An article from us regarding these storms will be posted Tuesday.
Thursday (4/7) High temperatures will near 80 degrees in SEPA, with 70s in South Central PA and NEPA, and struggle to reach 60 in all of Western PA as a cold front pushes through. High clouds are likely all day, with low clouds pushing east with a line of thunderstorms at their forefront. Mostly sunny skies are likely in Western PA by late afternoon behind the front. West winds of 6-12mph, gusting 15-25, higher in t-storms. Overnight lows in the 30s in Western and Northern PA, 40s Southern and Eastern PA.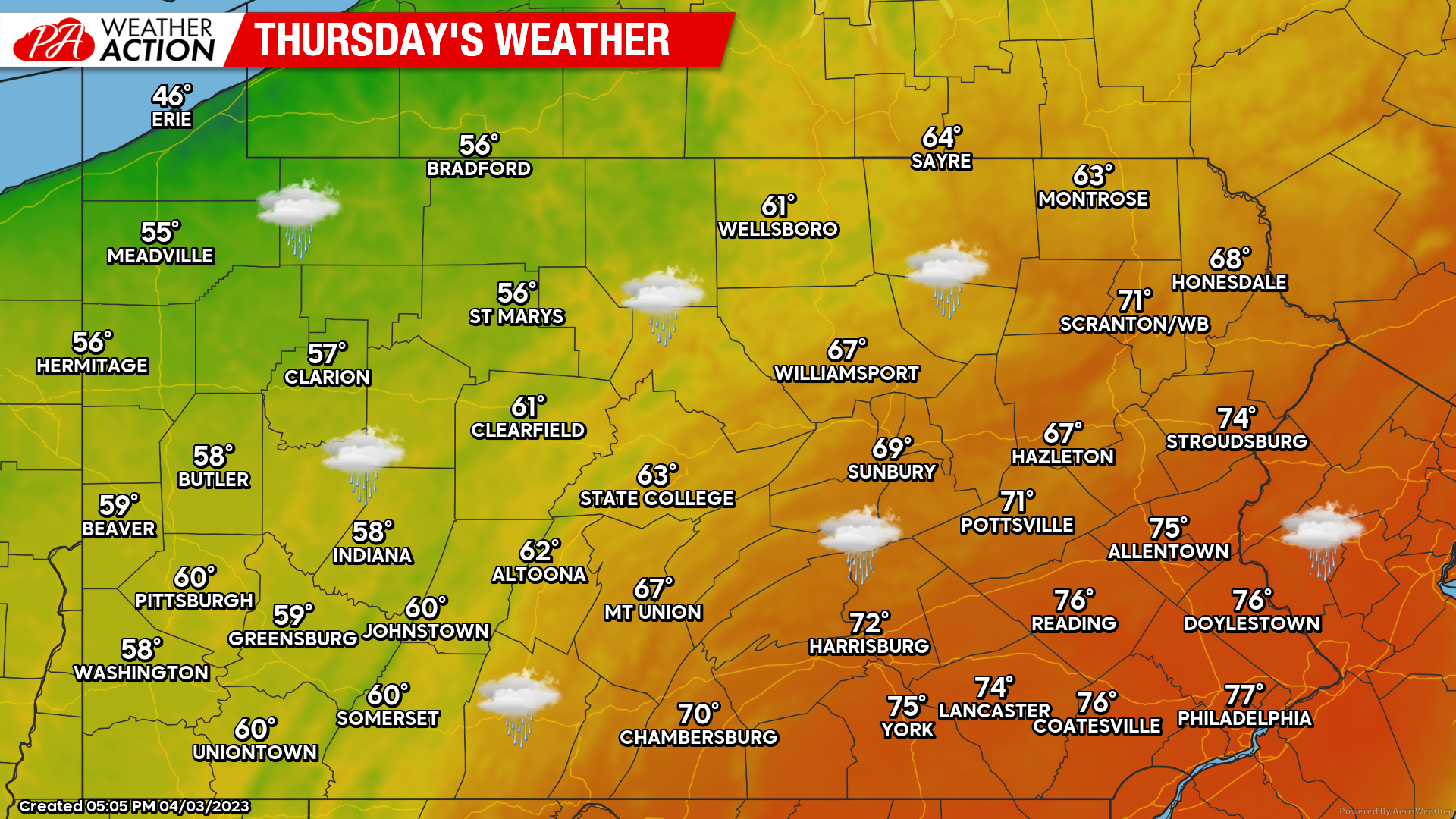 Thunderstorms will develop near I-81 by 1-2pm, and push east into SEPA by late Thursday afternoon. Some of these storms may be severe as well, with a marginal tornado threat from the Lower Susquehanna Valley into Southeast PA. More on this in a separate article when we have more details.
Friday (4/8) High temperatures much cooler behind the cold front, with 50s everywhere besides the high elevations of Northern PA. Mostly sunny skies expected, with northwest winds of 10-15mph, gusts around 25-35mph. Overnight lows in the 20s across the northern half of the state, 30s southern half. Frost and freeze alerts are likely for Saturday morning.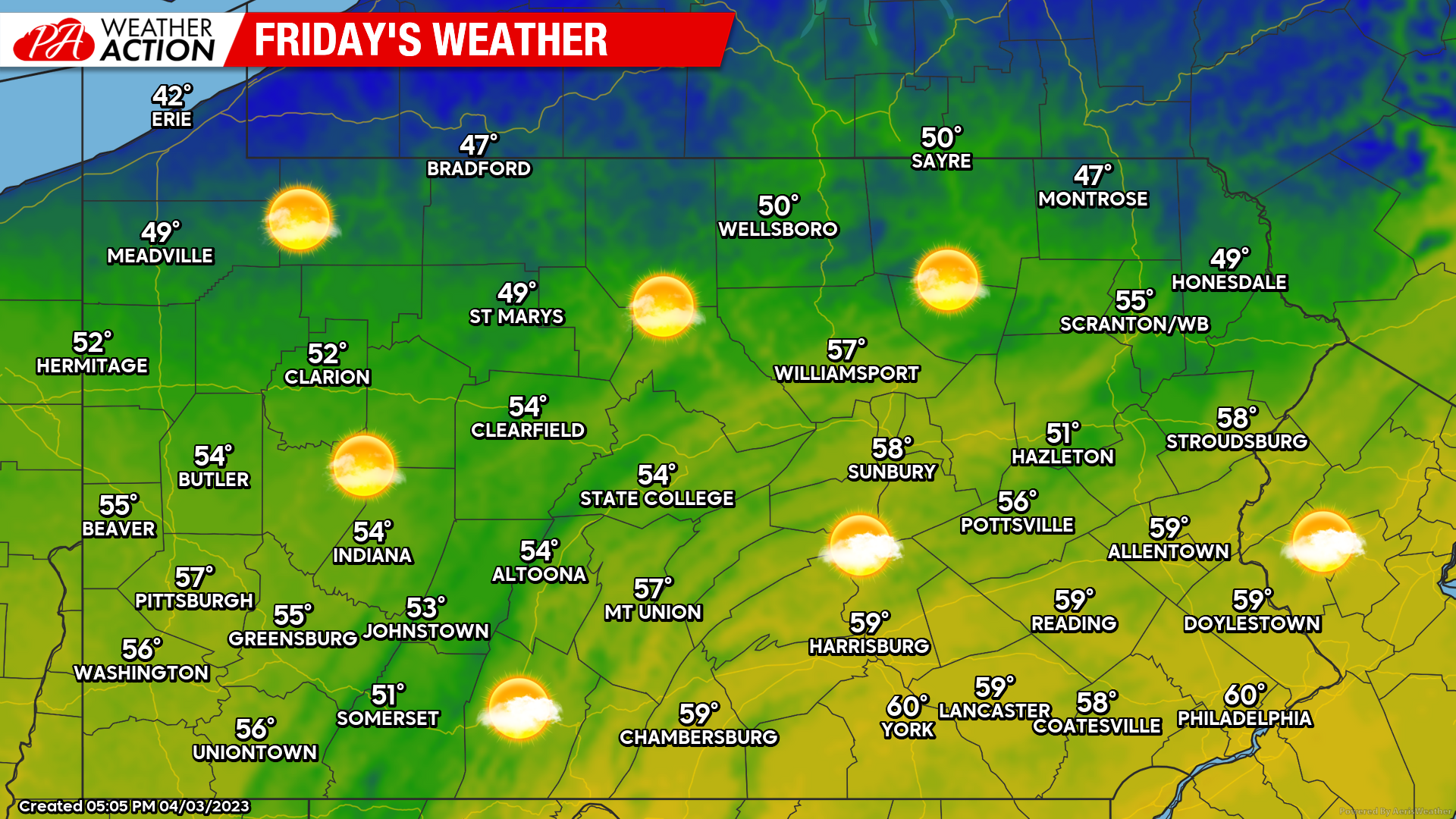 Early Look at Weekend (4/8-4/9) High temperatures in the 50s Saturday, 60s especially south on Sunday. Dry conditions, with only high clouds in Southern PA Saturday as a system passes well to our south, and high clouds in Northern PA on Sunday. West winds of 2-7mph Saturday, and southerly winds of 2-7mph on Sunday. Widespread freezing temperatures should occur Sunday morning, prompting freeze alerts where the growing season has begun.
Have a great week, I'll be back with more on the severe threat very shortly!
Get the PA Weather Action App Here
---
---