Although there is a slight risk for eastern PA today (Sunday), most of the storms will come this morning, as we have seen in the Lehigh Valley. There may still be some isolated severe thunderstorms this evening, but the overall threat has decreased compared to earlier guidance.
All eyes turn to the storm you have been hearing about for days: Isaias. Its track has shifted more and more west, resulting in a wider area of heavy rain likely in the eastern half of the state.
Timing of the rainfall and gusty winds will be late Monday evening through late Tuesday evening, but the heaviest rainfall will come late Tuesday morning through early Tuesday evening. Winds may also gust up to 45 MPH in southeast PA early Tuesday afternoon. We will have future radar in Monday morning's update.
Flash flooding will be possible as Isaias moves through, especially in areas that have seen heavy rain in the past 24 hours. We expect rainfall rates of 1 to 1.5″ an hour in the heaviest rain bands, which are anticipated to be in southeast PA, Lehigh Valley, and southern Poconos.
ISAIAS RAINFALL FORECAST MAP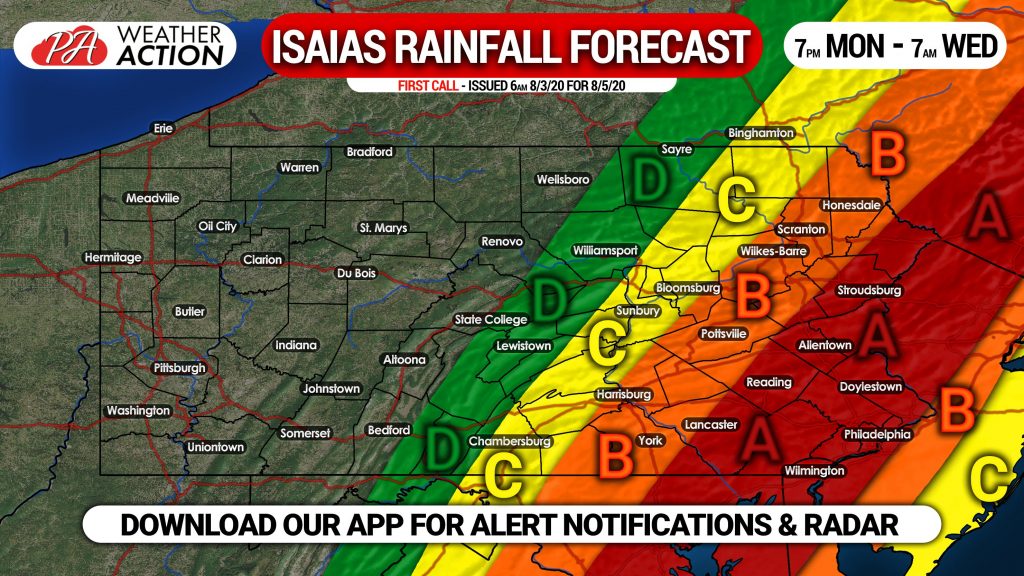 Area A: Rainfall amounts of 3 – 5″ expected, most of which will fall Tuesday afternoon. Urban street flooding is possible, especially in areas with poor drainage.
Area B: Rainfall amounts of 2 – 3″ anticipated, falling mostly Tuesday afternoon. Urban street flooding will be possible in areas with poor drainage.
Area C: Rainfall amounts of 1 – 2″ expected, mostly falling Tuesday afternoon.
Area D: Rainfall amounts of 1/2 – 1″ anticipated.
Turn around, don't drown. And remember these facts from the NWS:
* Six inches of water will reach the bottom of most passenger cars causing loss of control and possible stalling.
* A foot of water will float many vehicles.
* Two feet of rushing water can carry away most vehicles including sport utility vehicles (SUV's) and pick-ups.
Share this forecast and important advice with family and friends using the blue button.