FINAL CALL SNOWFALL FORECAST POSTED (UPDATED SATURDAY 5 PM):
FINAL Call Snowfall Forecast for Sunday – Monday's Major Winter Storm
While it's still too early to confidently issue a snowfall forecast, we have narrowed the possible outcome down to two scenarios. Right now, model guidance heavily favors the first scenario. However, it will require a very abnormal low pressure track to come to fruition. But due to the system cutting off from the rest of the jet stream, that will be entirely possible. A bit of skepticism remains due to some ensemble guidance being well east, suggesting a more traditional track and heavy snowfall area.
In both scenarios, nearly all of the state except Philadelphia will start as moderate snow on Sunday Afternoon. However, parts of South Central and all of Southeast PA is then expected to change to a mix and even plain rain by Sunday Night. Meanwhile, the western half of the state and Northeast PA will likely remain as moderate to even heavy snow through Sunday Night, before wrapping up Monday Morning.
There is not much blocking in place, so this storm will be able to quickly exit the area. As a result, the maximum range on Friday's First Call Snowfall Forecast will likely be around 10 – 15″. Unfortunately, it may not be fluffy snow. Instead, areas closer to the mix line will probably see wet snow.
You may ask…"Why don't you associate snowfall amounts with the adjectives below?" The answer is that confidence is not yet high enough to do so. It's meant to be that way to tell you that we don't quite know yet, but we will soon.
SCENARIO #1: 65% CONFIDENCE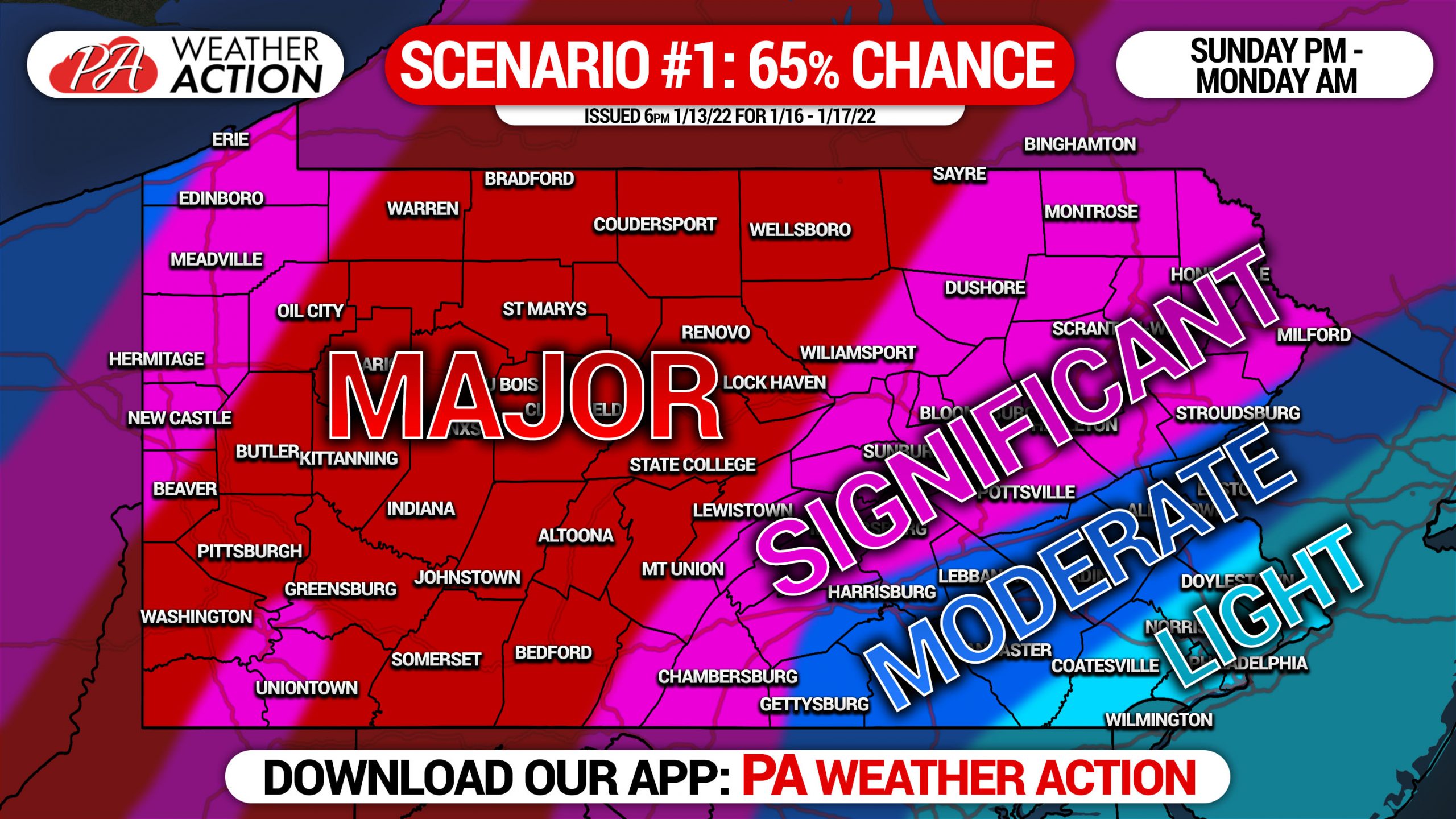 Scenario one has a 65% chance of coming to fruition as of where models sit Thursday Evening. This scenario will require the low pressure to track right into the Lower Susquehanna Valley. This scenario will result in a burst of snow for nearly everyone, followed by a change to sleet and then rain in South Central and Southeast PA (including the Lehigh Valley). This scenario also will result in the western half of Pennsylvania seeing a 14-18 hour period of mostly moderate to heavy snow. There will likely be sharper cutoffs on either side of the bullseye that remain unknown.
---
SCENARIO #2: 35% CONFIDENCE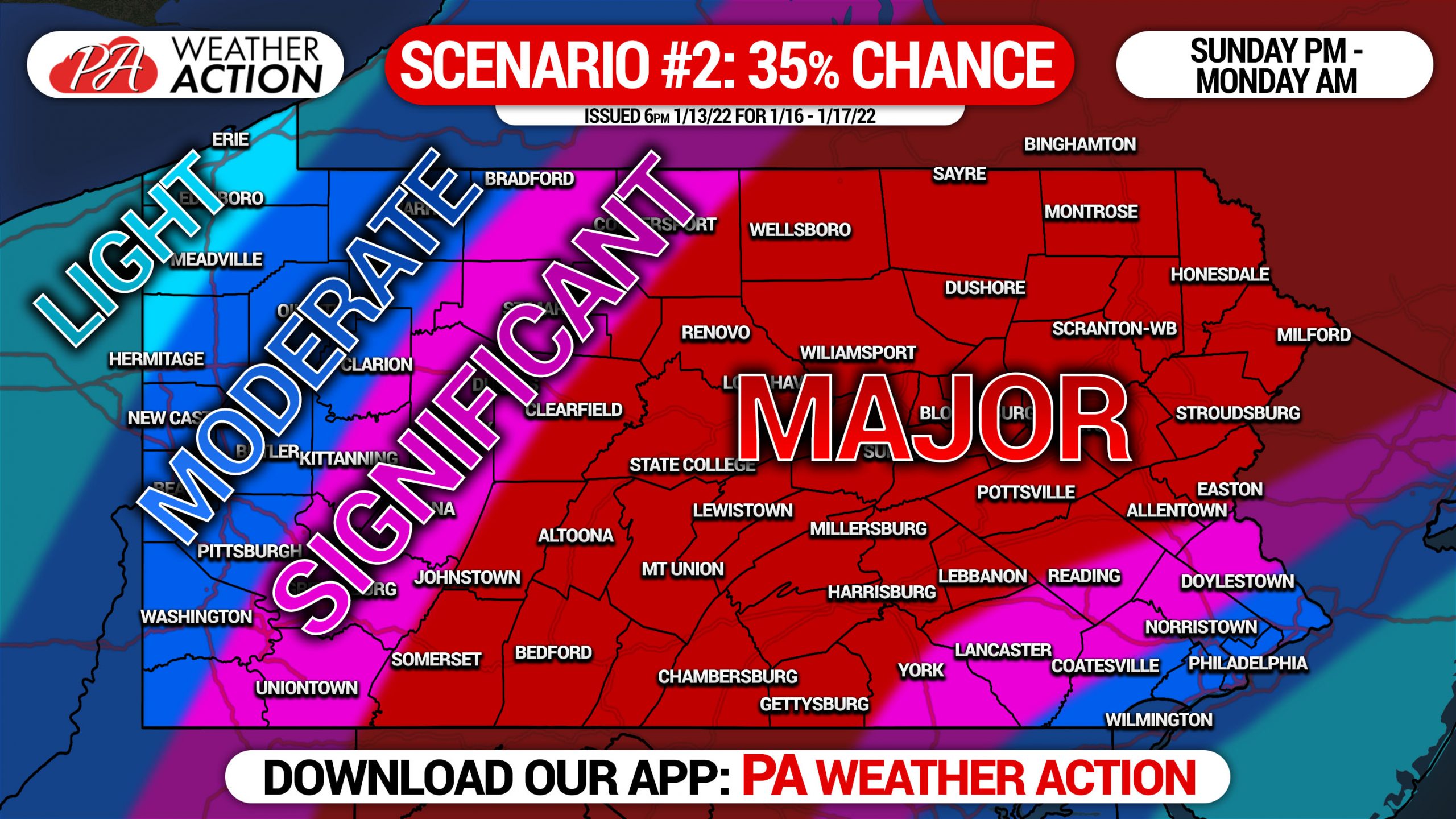 Scenario two has a 35% chance of occurring as of where models are Thursday Evening. This scenario would require the low pressure to track over the Delmarva or near the shore. As a result, the area of heaviest snow would be much farther east, mainly in Central and Eastern PA. Southeast Pennsylvania would likely still deal with sleet and even rain, knocking down totals. There would also be lesser impacts in Western Pennsylvania due to the low being well east of the previous scenario. Right now, this scenario remains unlikely.
Stay tuned for our First Call Snowfall Forecast on Friday Evening.
Don't forget to share this article with family and friends who have to plan around the storm.